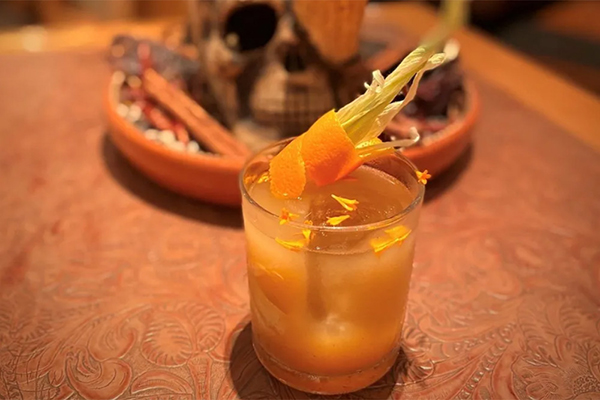 Fall is a special time of year. As the weather cools off and the year winds down, it's an excellent time to look forward to the coming New Year and all that 2021 will bring. It's also a wonderful reason to partake in some of the amazing seasonal cocktails being served up in the Bay Area this time of year.

7×7 has compiled a short list of five local bar stars sharing their fall cocktail recipes for those budding mixologist in us all who would like to give it a try at home. Two of the five cocktails are from Oakland establishments. Calavera's Nixta and Sidebar's Darkest Before Dawn both made the list.
From the 7×7 article:
At Oakland's Calavera, Grandé Antonio adds a muddle to his variation of an Old Fashioned cocktail by including a Mexican staple: maize.
"To make this fall cocktail and stay true to the Calavera style, I used Abasolo—a native corn whisky from Mexico," he says. "Muddling roasted corn, a fresh slice of ginger, orange peel, and Demerara sugar mimics the way indigenous people would make a salsa fresca with a molcajete. This cocktail is a wonderful marriage of an Old Fashioned and the taste of Mexico."
Ingredients
2 ounces Abasolo Corn Whisky
1/4 ounce sherry (Aurora Pedro Ximénez)
1 ounce roasted corn
1 slice ginger
3 dashes Angostura bitters
3 dashes orange bitters
1 peel orange
1 teaspoon Demerara sugar
Combine the roasted corn, ginger, orange peel, bitters, sherry, and sugar into a mixing glass. Muddle well into a paste-like mash, then add the whisky and ice. Stir vigorously for 20 seconds. Double strain into a rocks glass with one large cube.
Calavera, 2337 Broadway, Oakland, calaveraoakland.com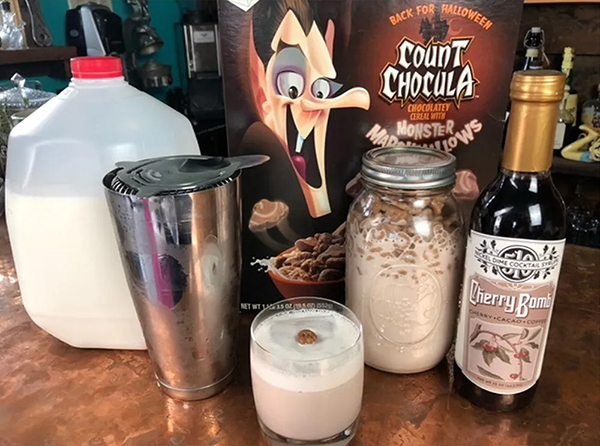 Jared Hirsch, bar manager at Sidebar in Oakland, explains his comfort cocktail:
"I love the milk at the bottom of my cereal bowl so much, I use it as an ingredient in drinks. For this recipe, I used that nostalgic monster cereal, Count Chocula, and paired that chocolatey goodness with Cherry Bomb, our cherry-cacao-coffee syrup. This drink can be made with or without alcohol and, as there's no caffeine in our syrups, it's completely safe for kids."
Ingredients
2 ounces Count Chocula–infused milk*
1 ounce Cherry Bomb syrup
1 ounce vodka (or more milk)
Add ingredients to cocktail shaker with ice and shake vigorously for 30 seconds. Pour over a large ice cube in a rocks glass and garnish with pieces of cereal.
* To make cereal milk, submerge cereal in enough milk to cover. Steep for 20 minutes. Strain out cereal.
Sidebar, 542 Grand Ave, Oakland, sidebar-oaktown.com
For a complete list of cocktail recipes, visit the 7×7 article. Cheers and hope you have a happy holiday season.
Experience life along the Oakland Waterfront! Introducing Orion, luxury apartments in Oakland CA. We offer the best amenities and a variety of floor plans designed to fit you. Visit our amazing homes today. Life on the water here comes in dozens of unique sizes and looks. Orion offers a generous variety of studios, one-, two- and three-bedrooms and townhome-style floor plans to choose from, each complete with premium finishes including polished quartz countertops, stainless steel appliances, and an in-unit washer/dryer. Start exploring plans and amenities at this exciting new apartment community in Oakland's newest neighborhood at Brooklyn Basin!