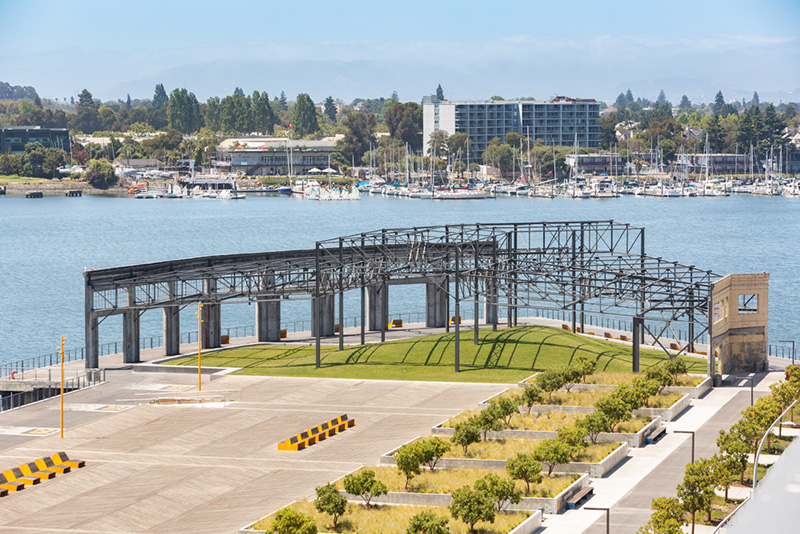 These are exciting times for residents at Orion Apartments. Life is scenic and ever-changing as our neighborhood recaptures the vibrancy of the dynamic Oakland Waterfront.
Brooklyn Basin, Oakland's newest waterfront neighborhood, today announced the opening of the highly-anticipated Township Commons public park. The first of five public parks planned for the neighborhood, Township Commons sits alongside the Oakland Estuary with picturesque water views to Alameda and San Francisco. Situated adjacent to the beautifully restored 9th Avenue Terminal building, the park provides expansive outdoor space for visitors, neighbors, and residents to enjoy.
"Parks and public spaces are more important now than ever, and I'm happy we can provide a new outdoor space for Oaklanders to enjoy," said Michael Ghielmetti, president and founder of Signature Development Group, the Oakland-based development company spearheading the Brooklyn Basin master plan in partnership with Beijing-based Zarsion Holdings Group. "Township Commons is the centerpiece of the new and growing Brooklyn Basin neighborhood and provides a beautiful new community amenity. The space is designed to accommodate small gatherings, performances by local musicians and artists, and other community activities, which we plan to offer when it is safe to do so."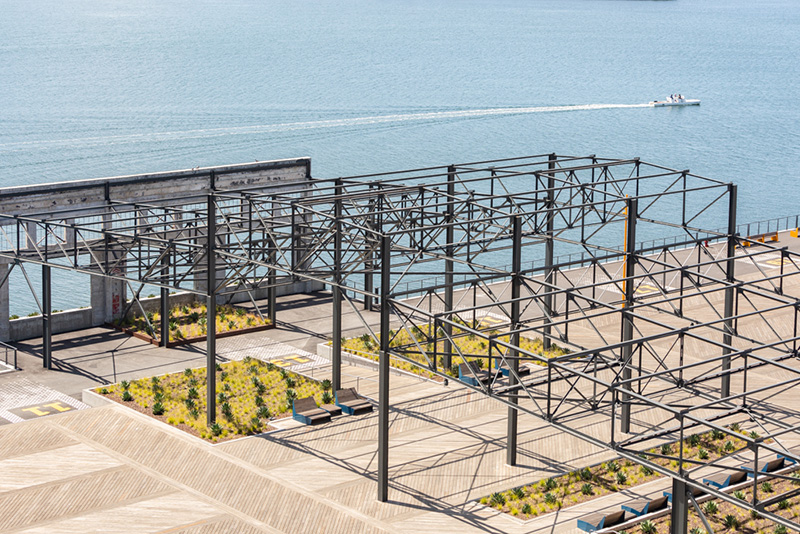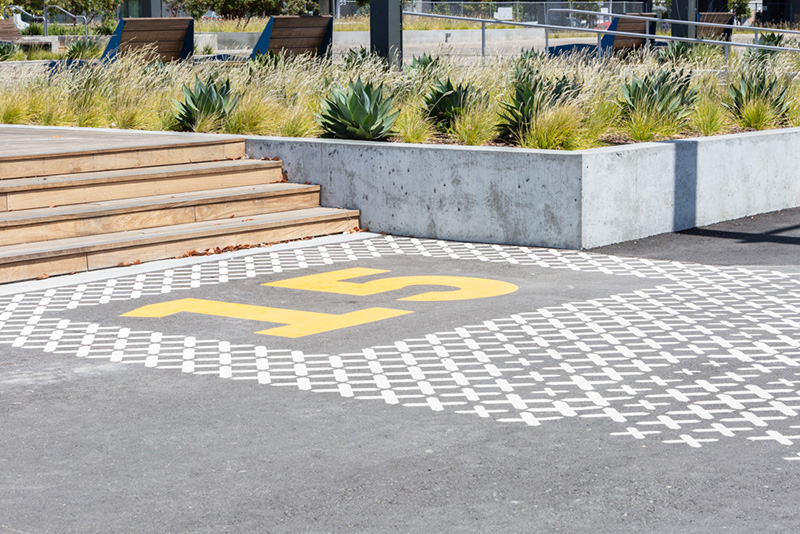 A Vibrant and Livable Community. Township Commons is conveniently situated next to other newly-opened amenities at Brooklyn Basin including Rocky's Market, a local organic produce and grocery store; The Kitchen at Rocky's Market, a restaurant serving seasonal menus for outdoor dining or take-away; California Canoe & Kayak, a specialty paddle sports pro shop offering merchandise sales and hourly rentals; and Brooklyn Basin's various residential offerings.
Designed by Oakland-based Einwiller Kuehl Landscape Architecture, the park transforms a portion of Oakland's industrial waterfront into a public outdoor space while keeping pre-existing features such as the historic terminal façade and some of the original structure as focal points. Spanning the park are three distinct remnants of the original 9th Avenue Terminal building, including a covered waterfront "community porch" designed for outdoor dining, an expansive open-air deck made from sustainably-harvested wood, and a terminus section containing a giant grassy hill with water views, perfect for picnics and outdoor activities. Numerous brightly-colored and oversized wood chaise lounge chairs are scattered throughout the park, creating what feels like a waterfront living room for the public to enjoy. Plans are in place for public art to be installed in the near future.
Preservation of Oakland's Rich History. Various historical artifacts, discovered throughout the site during the construction process, were also preserved as a tribute to the industrial history of the location and have been integrated and overlaid with new planting and lighting, including original locomotive cowcatchers from trains that once visited the terminal and massive dock tie-ups once used to secure large shipping vessels. The color scheme was drawn from the original industrial space — bulldozer greys, safety oranges and yellows, deep water blues – that reference the site's history.
"We wanted to transform the eight-acre space into a memorable public space that would be suitable for modern use while keeping elements that told the story and history," said Sarah Kuehl, co-founder of Einwiller Kuehl Landscape Architecture. "Township Commons is a generational project for Oakland. It needed to be transformative enough that it had a new and better purpose for today. Projects like this don't happen often, and this is at a level of investment and transformation similar to that of Lake Merritt, a building block that our generation is offering to the future and an important part of reconnecting to our estuary and our waterfront."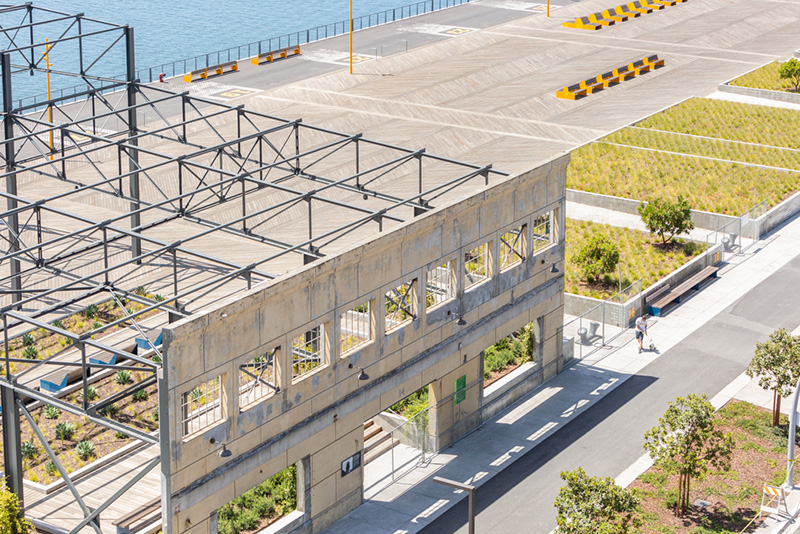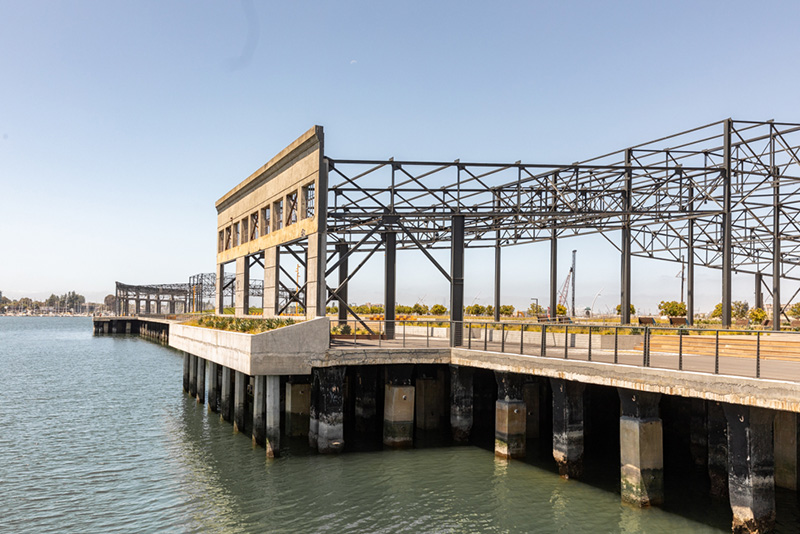 Connecting the Region. Additionally, the park provides a connection to the Bay Trail, a walking and biking path with 500-miles planned to go around the entire San Francisco Bay through all nine Bay Area counties, 47 cities, and across seven toll bridges.
"We are thrilled that Township Commons is opening as a new public park for the local community," said Ken Lupoff, executive director for the Oakland Parks and Recreation Foundation. "With Oakland's growing population and the critical importance of parks during the COVID pandemic, it's critically important that all Oaklanders have access to well-maintained public open spaces."
Township Commons will be open to the public daily from sunrise until sunset. Visitors are encouraged to practice physical distancing to prevent the spread of COVID-19.
So plan a trip soon to the Oakland waterfront and enjoy all that Township Commons has to offer. You'll be surprised at all of the progress that has been made to this wonderful public space.
Experience life along the Oakland Waterfront! Introducing Orion, luxury apartments in Oakland CA. We offer the best amenities and a variety of floor plans designed to fit you. Visit our amazing homes today. Life on the water here comes in dozens of unique sizes and looks. Orion offers a generous variety of studios, one-, two- and three-bedrooms and townhome-style floor plans to choose from, each complete with premium finishes including polished quartz countertops, stainless steel appliances, and an in-unit washer/dryer. Start exploring plans and amenities at this exciting new apartment community in Oakland's newest neighborhood at Brooklyn Basin!