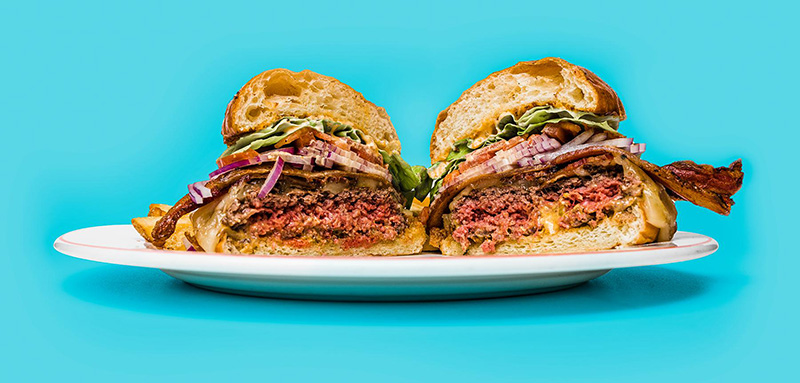 Oakland Restaurant Week is back from January 7-18, 2021. Oakland Restaurant Week gets upgraded to Oakland Restaurant (and More) Week to promote all the businesses who contribute to Oakland's culinary fabric. Unlike past years, there isn't a prix fixe format, and restaurants are free to offer whatever deals they like. And it's also not just restaurants — Oakland is expanding the week to include other types of food businesses, including pop-ups, caterers, and wineries. We've rounded up a few ORW specials in the Jack London District, just steps from your life at Orion at Brooklyn Basin.
Brotzeit Lokal. This Bavarian-inspired restaurant and biergarten has a distinctively Oakland flare.
Lunchbox $14: Choose one option below. Comes with a non-alcoholic beverage of your choice or beer, wine or cocktail instead for an additional charge.
Lokal Wurst with fries or salad, Choose from: Bratwurst, Wurzige, Italian Herbed Chicken, Andouille, Field Roast Italian Vegan.
Oma's Chicken Sandwich – buttermilk fried chicken, sriracha aioli, lettice, tomato, red onion, jalapenos… with fries or side salad.
Lokal Burger – All natural grass-fed beef, lettuce, tomato, onions, on a brioche bun, with fries or salad, can substitute Fieldroastvegan patty.

Dinner Prixfixe $35 per person
Appetizer: side salad, basket of fries or Bretzel & obadzta
Entrée: game sausage platter, trufflespatzle or jagerschnitzel
Dessert: apfel struedel, chocolate cheesecake
Specialty cocktail, glass of wine or craft beer
Brunch Prixfixe $25 per person (available Saturday + Sunday 11am-3pm)
Appetizer – Choose from: basket of fries or Bretzel & obadzta
Entrée: Eggs Benedict, Schnitzel Stack or Wurst & Eggs
Cocktail: Bloody Mary, Michelada, Mimosa, other selected craft beer & wine
Chop Bar. Offering brunch, lunch and dinner with a menu of great food, wine-on tap + local beers.
Chicken Pot Pie $20. Mary's chicken, pearl onions, potatoes, carrots, puff pastry
Cottage Pie $15. Ground beef, winter vegetables, cheesy mashed potato crust
Meatloaf $23. Garlic mashed potatoes, hamhock gravy, brussels sprouts
Enchiladas Verdes. Rice, black beans, pico de gallo, tomatillo salsa
Cheese $14, Chicken $15, Duck $16
Prepared. Packaged. Ready to be heated and serve.
The Forge. A delicious menu featuring a variety of pizzas, salads, sandwiches, and cocktails.
Special $25 Any pizza and a Caesar salad to go.
Spend $50 get choice of any beer or glass of wine to go.
Spend $75 get choice of 2 draft beer or house wine to go.
Spend $100 get bottle of house wine red or white to go.
The Backyard. Tucked just off the Oakland waterfront, tacos, margaritas and fun all intersect.
ORW Special $35 per person choice of "For 1" or "For 2"
1st Course: Totopos Adobados. House made corn tortilla chips coated with chile puya salsa, garnished with cotija de cabra, red onion, served with guacamole.
Choose one main course:
Pipian Rojo con Vegetales (Vegan). Red Pumpkin seed sauce, with roasted butternut squash, Romanesco, Sweet potato, chard, cashew cream, spiced pepitas, served with kale and cilantro rice.
Caldo con Albondigas de Pollo. Chicken & rice meatballs soup, with carrots, napa cabbage, assorted mushrooms, and chile serrano chimichurri salsa, served with tortillas.
Enmoladas de Tres Moles con Pato. Three enchiladas filled with duck confit, smothered with mole negro, manchamanteles and mole verde, topped with cotija de cabra, avocado, onion, served with kale cilantro rice.
Dessert: Tres Leches de Maiz. Layered sponge cake made with cornmeal, soaked in 3 sweet milks, served with whipped cream and seasonal fruit compote
Sips: 10oz (2 serving) Margarita de la Cruz
Kitava. 100% free of gluten, dairy, corn, soy, peanuts, refined sugar & seed oils.
Chicken Tenders Special $15. Free-range organic chicken tenders coated in cassava flour breading, served with classic cut fries, coleslaw, honey mustard, and house ketchup.
Home of Chicken and Waffles. Fried chicken with flair located in Jack London Square.
Kamala's Collard Greens Chicken Lasagna ($19.95)
Green Salad + Choice of dessert and beverage
$1.00 from each meal sold will be donated to the Oakland LGBTQ center
In addition to restaurants, Visit Oakland reminds us to be sure to show some love to Oakland's breweries, wineries, food trucks, cafes, pop-ups, dessert spots, caterers, and more!
Experience life along the Oakland Waterfront. Introducing Orion, luxury apartments in Oakland CA. We offer the best amenities and a variety of floor plans designed to fit you. Visit our amazing homes today. Life on the water here comes in dozens of unique sizes and looks. Orion offers a generous variety of studios, one-, two- and three-bedrooms and townhome-style floor plans to choose from, each complete with premium finishes including polished quartz countertops, stainless steel appliances, and an in-unit washer/dryer. Start exploring plans and amenities at this exciting new apartment community in Oakland's newest neighborhood at Brooklyn Basin!