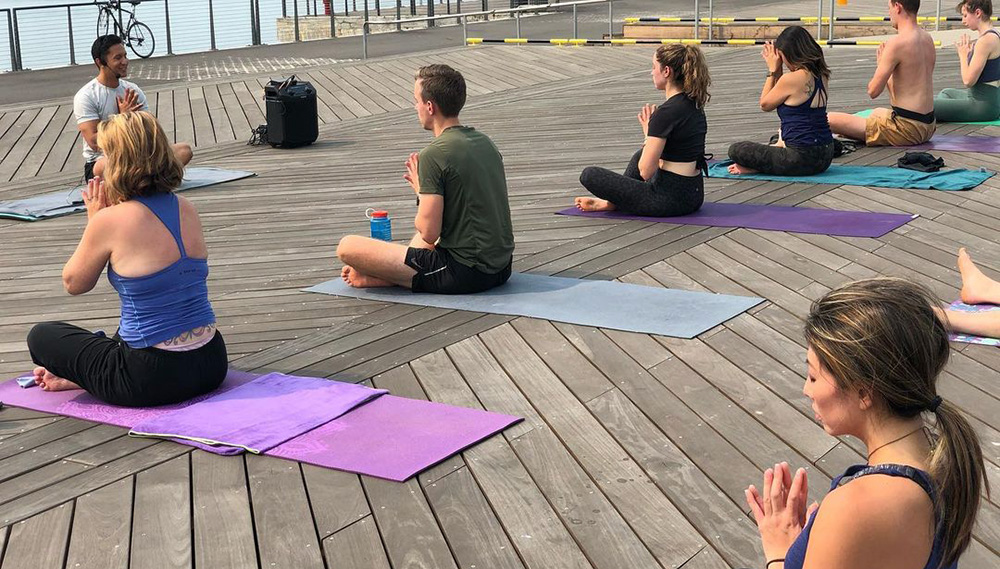 Orion apartment community vibrantly blends work, play, and everyday life along the Oakland waterfront. Oakland's newest waterfront park, Township Commons and the open-air space at the 9th Avenue Terminal Center, is a huge hit with residents and visitors alike – hosting an incredible lineup of events just outside our doorstep. Whether you decide to enjoy what's happening at home or venture a little further, here are a few events we are looking forward to this season.
The Oakland Symphony comes to the historic 9th Avenue Terminal Building in Brooklyn Basin during the free SummerStage Concert Series at Rocky's Market Brooklyn Basin. Tirring Serenades on September 2 offers a delightful, delicious breeze. The summer finale on September 9 concludes as Michael Morgan conducts the beguiling First Symphony of the 15-year-old Felix Mendelssohn and the enchanting Bassoon Concerto of the 18-year-old Mozart, with the Orchestra's Deborah Kramer.
Yappy Hour comes to the Oakland waterfront at Jack London Square on September 2! Tails will be waggin' with plenty of outdoor patios to welcome your pooch, live music, drink specials, Astroturf squares and menu deals. Plan a visit to participating spots which include Belcampo, Ben & Jerry's, Farmhouse Thai, Forge, Plank, Scott's Seafood, Rosenblum Cellars, Seabreeze on the Dock and Heinhold's First and Last Chance Saloon.
Sip + Flow: A Yoga Class and Wine Tasting Event. Mosey down to Brooklyn Basin (Behind Rocky's Market) on September 4 for a one-hour vinyasa class followed by a one-hour wine tasting.
Classic Soul + R&B will fill the air in Jack London Square on September 9. East Bay Mudd takes the stage at 7pm as part of the Thursday Concert Series along the Oakland waterfront.
Renegade Orchestra on September 10. It's time to throw out all the old conventions of a quiet, sleepy, stuffy show of musicians locked in straitjackets of tradition. Discover the beauty of a symphony, the soul of a rock band at Brooklyn Basin as the Renegade Orchestra embraces the virtuosic skills of top bay area musicians and turns them loose on songs orchestras have never done or maybe shouldn't do.
Your own outdoor theater pops up September 16 at dusk along the Oakland waterfront! Miss Congeniality is playing in Jack London Square as part of the Waterfront Flicks free movie series.
Night Watch arrives along our Oakland waterfront in front of Orion apartments on September 19. Night Watch is a floating, art installation that combines contemporary LED-technology with an historic mode of water transport – a barge – to create a sophisticated and layered artistic and sculptural work of art. The barge will stop at Brooklyn Basin as part of a three-day tour around the Bay Area. Viewable from Township Commons at Brooklyn Basin, this will be the West Coast debut of the event which first took place in New York City in 2018. This event is open to the public and free to attend.
Fall Finds at the Jack London Square Farmers Market. This popular market takes place every Sunday and is a great venue to grab all types of goods including fresh sunflowers, squash and gourds galore to celebrate the fall season. At just over a mile from your door at Orion, the transit paths along the Embarcadero make it an easy walk or bike between Brooklyn Basin and Jack London Square. Open year-round on Sundays from 9am to 2pm.
The Comedy Edge: Stand-Up on the Waterfront. Bringing you new comics every week and featuring acts that have been on Comedy Central, Netflix, and BET alongside delicious food and wine at an intimate waterfront setting at Rocky's Market Brooklyn Basin. Heated patio sheltered from wind, this majestic space is the perfect place to enjoy a night out year-round regardless of weather. Watch for upcoming dates!
Sunset Sundays on the Oakland Waterfront. Ready to dance, laugh, hear fantastic LIVE music and have a great night out? Enjoy the Bay Area's best bands and musicians in Rocky's open air covered patio set on the majestic Oakland waterfront. Arrive between 4-5pm every Sunday to eat a beautiful meal or appetizers first; you can also continue to order food and drinks at the marketplace and the friendly staff will bring it back to your table throughout the show.
Pop over to Alameda. Walk, bike or shuttle from Orion to JLS and hop on a ferry to Alameda to spend a day shopping your favorite artisan makers in time for the holidays at Head West at Hangar 1 – upcoming dates include Sept 18-19 from 11am – 5pm and Nov 20- 21 + Dec 18-19 from 10am – 4pm. There's also Alameda Point Antiques Faire which is offered the first Sunday of every month, next up Sept 5, Oct 3, Nov 7 and Dec 5. Want to stay a little longer? From naval ships and hiking trails to arcades and museums, Alameda has a little something for everyone.
Experience life along the Oakland Waterfront! Introducing Orion, luxury apartments in Oakland CA. We offer the best amenities and a variety of floor plans designed to fit you. Visit our amazing homes today. Life on the water here comes in dozens of unique sizes and looks. Orion offers a generous variety of studios, one-, two- and three-bedrooms and townhome-style floor plans to choose from, each complete with premium finishes including polished quartz countertops, stainless steel appliances, and an in-unit washer/dryer. Start exploring plans and amenities at this exciting new apartment community in Oakland's newest neighborhood at Brooklyn Basin!