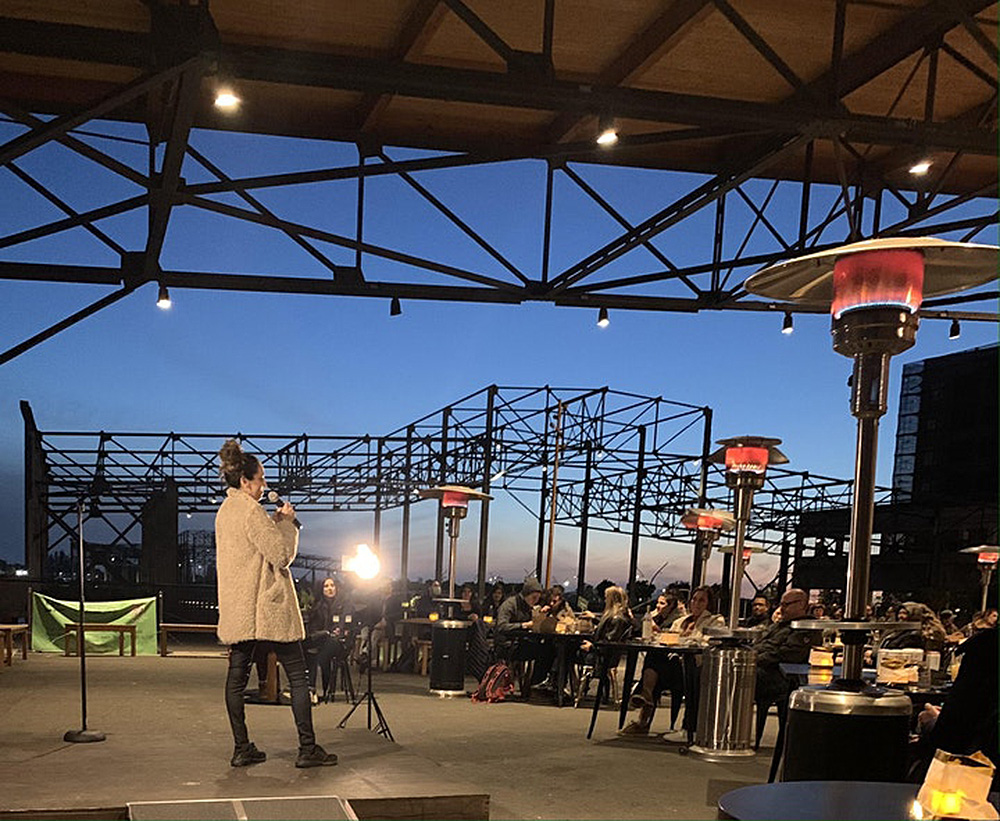 Fall is the season for all senses, especially along the Oakland waterfront. Oakland's newest waterfront park, Township Commons and the open-air space at the 9th Avenue Terminal Center, is a huge hit with residents and visitors alike – hosting an incredible lineup of events just outside our doorstep. Whether you decide to enjoy what's happening at home or venture a little further, here are a few fall events we are looking forward to this season.
Thru November 21, Vibemap Jack London Challenge. With the help of Vibemap's city discovery app, participants can rack up "challenge points" by visiting more than 80 places and experiences curated by the organizers.
October 9, Outdoor Vinyasa at Brooklyn Basin. Class will be a 60 minute Power Vinyasa flow. Come early to check in and set up on the deck behind Rocky's Market at the 9th Avenue Terminal Building.
October 14, Fall Concert. Break your chair and head to Jack London Square for a free fall concert featuring Fleetwood Mask. This event will be located in the plaza near Plank from 7pm to 9pm.
October 14, Bridges At the Basin. Oakland's most talented and daring musicians break new ground in this cross-cultural celebration of diversity and collaboration at Rocky's Market.
October 16, The Comedy Edge: Stand-Up on the Waterfront. Enjoy some of the Bay Area's top comedians in this open-air covered patio set on the majestic Oakland waterfront at Rocky's.
October 21, Waterfront Flicks. JLS is hosting a movie night featuring the original Men in Black on the Ferry lawn near the Waterfront Hotel. Movie will start at dusk.
October 31, Kayak or SUP. Book your rental from California Cone and Kayak for Halloween and cruise along the waterfront.
November 7, Alameda Point Antiques Faire. Walk, bike or shuttle from Orion to JLS and hop on a ferry to Alameda to spend a day shopping your favorite artisan makers in time for the holidays.
November 13, A Life in Clay. Get ready to explore the legacy of Edith Heath, one of the most influential and enduring designers of the 20th century, in an original exhibition in the Oakland Museum's Great Hall.
November 21, Sunset Sundays on the Oakland Waterfront. Ready to dance, laugh, hear fantastic LIVE music and have a great night out? Enjoy the Bay Area's best bands and musicians in Rocky's open air covered patio set on the majestic Oakland waterfront. Arrive between 4-5pm every Sunday to eat a beautiful meal or appetizers first; you can also continue to order food and drinks at the marketplace and the friendly staff will bring it back to your table throughout the show.
Find some of fall's favorites like grapes, apples, figs, winter squash, and more at the Jack London Square Farmers Market. This popular market takes place every Sunday and is a great venue to grab all types of goods. At just over a mile from your door at Orion, the transit paths along the Embarcadero make it an easy walk or bike between Brooklyn Basin and Jack London Square. Open year-round on Sundays from 9am to 2pm. Preserve your fall fruits with these tips.
Image credit: The Comedy Edge: Stand-Up on the Waterfront
Experience life along the Oakland Waterfront! Introducing Orion, luxury apartments in Oakland CA. We offer the best amenities and a variety of floor plans designed to fit you. Visit our amazing homes today. Life on the water here comes in dozens of unique sizes and looks. Orion offers a generous variety of studios, one-, two- and three-bedrooms and townhome-style floor plans to choose from, each complete with premium finishes including polished quartz countertops, stainless steel appliances, and an in-unit washer/dryer. Start exploring plans and amenities at this exciting new apartment community in Oakland's newest neighborhood at Brooklyn Basin!