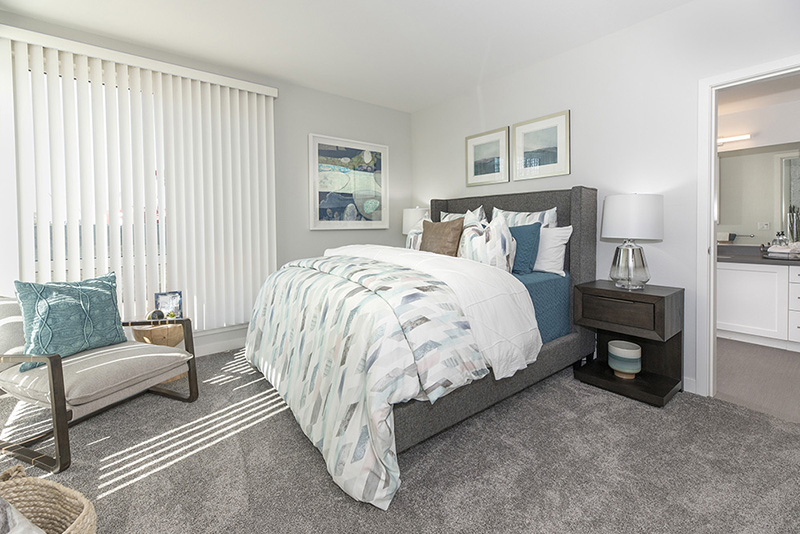 Your Bedroom is your personal space that helps you feel refreshed and renewed before the start of each day. And so, it's important that your bedroom be designed with Feng Shui to achieve that peaceful haven. Get that Feng Shui feeling by following these helpful tips and keep the chi flowing!
Bed Placement. Bedroom arrangement is very important in creating a perfect Feng Shui bedroom. A good mattress, a solid headboard and high-quality sheets from natural fibers are also very important in creating harmonious energy. The best position for a bed is one where you can see the door from the bed, but you are not in direct line with the door. Do not place a side of your bed against a wall, such as in a corner of the room.
Energy. Leaving your bedroom door open when you sleep allows positive chi to flow out. Sleeping with the door shut promotes feelings of safety and security, bringing you calm and peace of mind.
Fresh Air. To have good Feng Shui in your bedroom you need to breathe fresh air. Use a quality air-purifier to keep the air in your bedroom fresh and full of oxygen.
Clutter. Clutter symbolizes unfinished business and impedes forward progress in life. Keep furnishings on the spare side and clutter as contained as possible to enable chi to flow freely around the room. Televisions, computers, exercise gear, or a workspace in the bedroom are thought to distract from rest, symbolize wakefulness, and take up energy.
Art. Choose images with nourishing, happy and beautiful energy. Aim to decorate with positive art that emphasizes life and nature. One of the best places to hang such an image is on the wall opposite your bed so that you see it first thing when you wake up and last thing before you turn off the lights to go to sleep.
Lighting. Good lighting is very important, as light is one of the strongest manifestation of energy. Have several levels of lighting in your bedroom (overhead, table and wall lights), or use a dimmer switch to adjust the energy accordingly. Candles can create a warm and healing atmosphere.
Balance. In Feng Shui, pairs are thought to promote loving, harmonious energy. In general, try to have two of everything you can. Keep energy balanced around your bed. If you have a nightstand on one side, have an identical one on the other side.
Experience life along the Oakland Waterfront! Introducing Orion, luxury apartments in Oakland CA. We offer the best amenities and a variety of floor plans designed to fit you. Visit our amazing homes today. Life on the water here comes in dozens of unique sizes and looks. Orion offers a generous variety of studios, one-, two- and three-bedrooms and townhome-style floor plans to choose from, each complete with premium finishes including polished quartz countertops, stainless steel appliances, and an in-unit washer/dryer. Start exploring plans and amenities at this exciting new apartment community in Oakland's newest neighborhood at Brooklyn Basin!