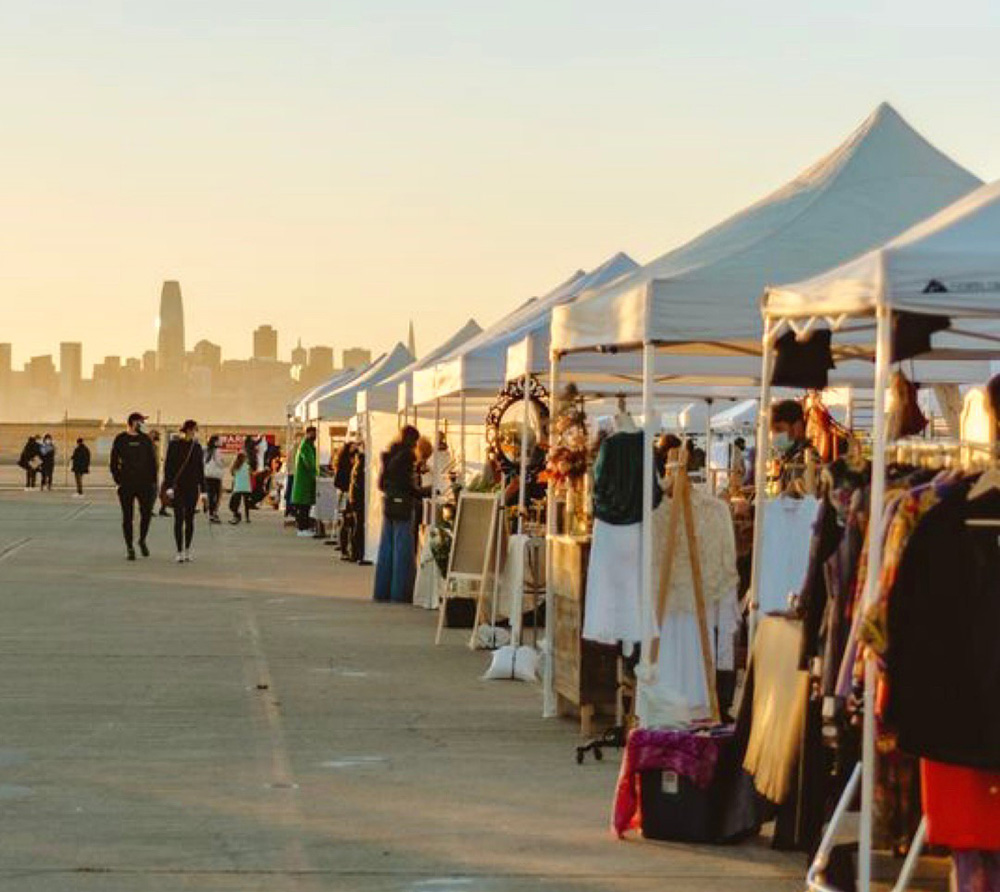 The East Bay and Oakland specifically is known for its creative spirit. When hunting for a housewarming, holiday or host gift – hit an open-air market and support a local Oakland maker! Between Jack London Square's Water Street Makers Market to Head West at Hangar 1 in Alameda, your options are covered.
Water Street Makers is a weekly open – air market that occurs on the waterfront in Oakland's historic Jack London Square approximately a mile north of Brooklyn Basin. Water Street Makers hosts 20 of the Bay Area's finest artisan craft designers and makers and takes place every Sunday from 11:00am – 4:00pm and is showcased alongside Jack London Square's acclaimed Farmer's Market organized by CUESA.
Grab some 3-19 Coffee, peruse seasonal centerpieces + arrangements and wreaths from local farmers like Medrano Flowers and artisans. Feast on some warm tamales from Donna's and don't forget to stock up on favorite soups from Sakura. Fill your market bags with goodies from local farmers. Keep an eye out for permissions, and other fall's favorites like grapes, apples, figs, winter squash, and more to freshen up your weekly meals.
It always feels good to give back. Plan to bring along an extra coat for someone in need. Jack London Square and KTVU FOX 2 have teamed up to keep the holidays warm for all and you can help. From November 1st to December 5th, Jack London Square will be collecting new and used coats for those in need, all part of the One Warm Coat effort. Drop off your coats in the barrels that are located in the plaza near Plank and in front of the Jack London Square management office.
Centered on connecting people, forging community + sustaining the local economy, HEAD WEST continues to build upon its marketplaces by offering expanded resources for small businesses to learn, grow, connect + share. It's an entrepreneur's dream. Check out these locations and times for a holiday shop.
Alameda – Hangar 1 Distillery
NOV 20+21 — DEC 18+19 | 10AM – 4PM
Temescal (just a short 6 mile drive from your home at Orion)
DEC 4 | 10AM – 4PM
The San Francisco Bay Ferry provides year-round weekday and weekend service and service on select holidays between Alameda Main Street or Oakland Jack London Square terminals in the East Bay and San Francisco Ferry Building or Pier 41 terminals. It's a great way to connect, explore and shop.
image credit: https://www.instagram.com/headwestmarketplace/
Experience life along the Oakland Waterfront! Introducing Orion, luxury apartments in Oakland CA. We offer the best amenities and a variety of floor plans designed to fit you. Visit our amazing homes today. Life on the water here comes in dozens of unique sizes and looks. Orion offers a generous variety of studios, one-, two- and three-bedrooms and townhome-style floor plans to choose from, each complete with premium finishes including polished quartz countertops, stainless steel appliances, and an in-unit washer/dryer. Start exploring plans and amenities at this exciting new apartment community in Oakland's newest neighborhood at Brooklyn Basin!