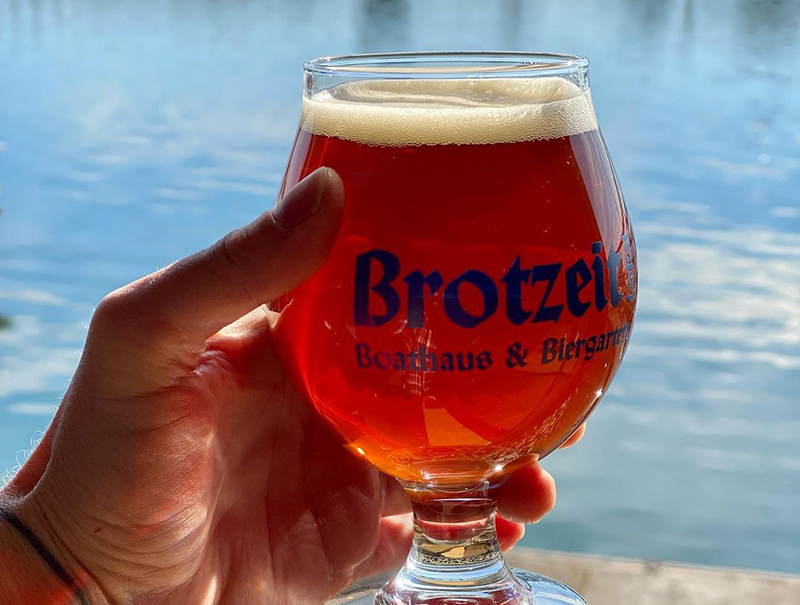 Oakland has an amazing beer and ale scene; it's one of the best in the region. Rooted in the spirit of the city's earliest manufacturers and can-do culture, Oakland's brewers are developing flavor and style combinations making themselves unique in the increasingly crowded American craft beer scene.
Developed by Visit Oakland in collaboration with a variety of partners from Oakland's craft beer industry, the Oakland Ale Trail celebrates the strength and uniqueness of Oakland's craft beer community. So head over to Oakland Ale Trail to learn about the many breweries and other craft beer destinations in Oakland.
We've rounded up a short summary of the Ale Trail spots you'll find along the Oakland waterfront.
Craft Beer Destinations
Brotzeit Lokal
Our neighbor tops the list. Brotzeit Lokal is a Bavarian-inspired restaurant and biergarten with a distinctively Oakland flare and features locally-sourced, house-made menu items alongside a unique German craft beer selection.
Tiger's Taproom
Tiger's Taproom draws people in to enjoy a wide selection of fresh craft beer in a laid-back environment where everyone feels like they belong. With its warm and welcoming environment and eclectic decor, patrons will enjoy a great beer selection as well as good conversation.
Seawolf Public House
Seawolf is a place for community to gather, share good drinks, and eat great food, continuing the pub tradition as a welcoming home-away-from-home.
plank
plank brings 50,000 square feet of interactive fun and excitement to the Port of Oakland's waterfront setting. Patrons will enjoy bowling, bocce, outdoor beer garden and a diverse menu.
Breweries
Buck Wild Brewing
Buck Wild Brewing is California's first 100% gluten-free brewery, producing wildly-delicious beers born out of a passion to craft a 100% gluten-free beer that tastes exactly like a great beer should.
Oakland United Beerworks
Oakland United Beerworks opened its Jack London integrated Taproom & Brewhouse in 2019 and boasts four TVs, two levels, 14 taps, free Wi-Fi, and plenty of good times.
Original Pattern Brewing Company
Original Pattern Brewing Company is an employee owned brewery and tasting room founded in Oakland, CA. With a love for the science and art of fermentation, you will always find something new and interesting on tap.
Check out the complete Oakland Ale Trail map here.
Image credit: Brotzeit Lokal on Instagram
Experience life along the Oakland Waterfront! Introducing Orion, luxury apartments in Oakland CA. We offer the best amenities and a variety of floor plans designed to fit you. Visit our amazing homes today. Life on the water here comes in dozens of unique sizes and looks. Orion offers a generous variety of studios, one-, two- and three-bedrooms and townhome-style floor plans to choose from, each complete with premium finishes including polished quartz countertops, stainless steel appliances, and an in-unit washer/dryer. Start exploring plans and amenities at this exciting new apartment community in Oakland's newest neighborhood at Brooklyn Basin!