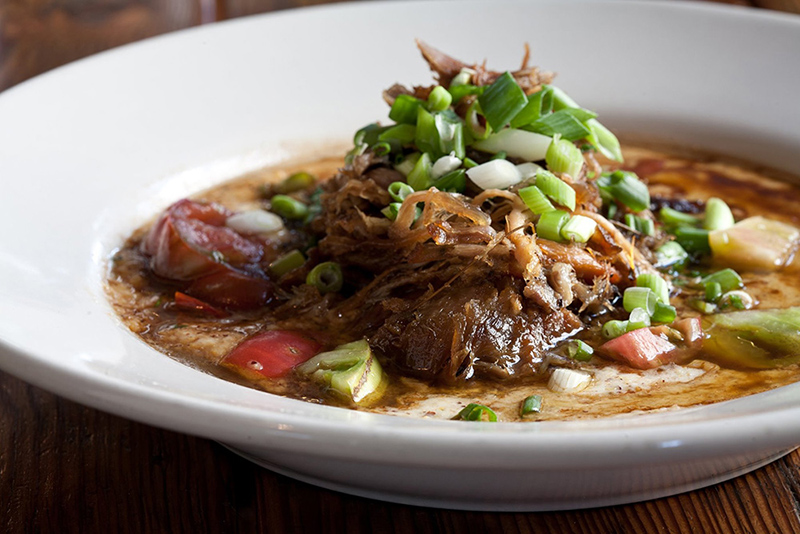 We love where we live, with numerous dining options located nearby at Brooklyn Basin as well as Jack London Square. Chop Bar is one of those dining venues serving breakfast, lunch and dinner. Using the finest ingredients found in the Bay Area, they make affordable and nourishing food designed to be enjoyed by everyone.
So what is a Chop Bar? Chris and Lev, co-owners of Chop Shop, describe it perfectly:
A chop bar, in West African parlance, is a roadside bar/restaurant that also serves as a gathering place for the community. One can go there for a meal, coffee in the morning or drinks at night. It is a place where neighbors can meet, share information and ideas, and connect with each other.
When we were considering opening this restaurant, we felt that a chop bar was exactly what this neighborhood needed!
Serving up breakfast, lunch and dinner, the food doesn't disappoint. Here are a few Yelp reviews in case you need a bit of prompting.
I love the vibes and atmosphere here! I've been building a list of places to go for my me time when I want a good drink and good food and this has definitely made the list. I ordered the cocktail of the week which was the Eclipse Lunar and the chicken torta. Everything was amazing! Such a perfect pair! Before leaving I ordered a glass of bubbly which was perfect and crisp and delicious! On top of all of that service was great, my food came quickly even though they were busy, and everything was fresh! I'll be back! – Arielle B.
I must give Chop Bar five stars because why?!?!? There's no reason not to. The food is great! The drinks are great! Cute little outside seating!!! – Cheryl T.
I danced! The food was so good… I danced. I Got the Chop salad and let me tell you the tomatoes were awesome, the chicken was perfect and the salad dressing was so good! The Fries were perfectly cooked… ummm what kind of Ketchup was that? That was good too. My daughter had the Chop Burger and fries and let me tell you that there was 20 minutes of silence!… 20 burgers please!… also she never eats a whole burger. Thank you for the wonderful food! – Trina P.
Some of the items from the Dinner Menu you really need to try:
Pork Belly Tacos
La Finca corn tortillas, smoked pineapple salsa, pickled red onions, queso Oaxaxa
Chop Bar Burger
CreamCo. ground beef, house-cured bacon, roma tomatoes, avocado, garlic aioli, Acme Kaiser roll, French fries & pickle (Add Tillamook cheddar, Fiscalini cheddar, Holey Cow Swiss, Pt. Reyes blue cheese, or cowboy onions +2)
Arugula Salad
candied walnuts, Pt. Reyes blue cheese, red wine vinaigrette, Rainbow Orchard apples
Pure Country Farms Jumbo Pork Chop
roasted marble potatoes, collard greens, smoked pineapple salsa
Dine in, take out or have delivered. You'll love what they are dishing up at Chop Bar.
Image credit: https://www.oaklandchopbar.com
Experience life along the Oakland Waterfront! Introducing Orion, luxury apartments in Oakland CA. We offer the best amenities and a variety of floor plans designed to fit you. Visit our amazing homes today. Life on the water here comes in dozens of unique sizes and looks. Orion offers a generous variety of studios, one-, two- and three-bedrooms and townhome-style floor plans to choose from, each complete with premium finishes including polished quartz countertops, stainless steel appliances, and an in-unit washer/dryer. Start exploring plans and amenities at this exciting new apartment community in Oakland's newest neighborhood at Brooklyn Basin!