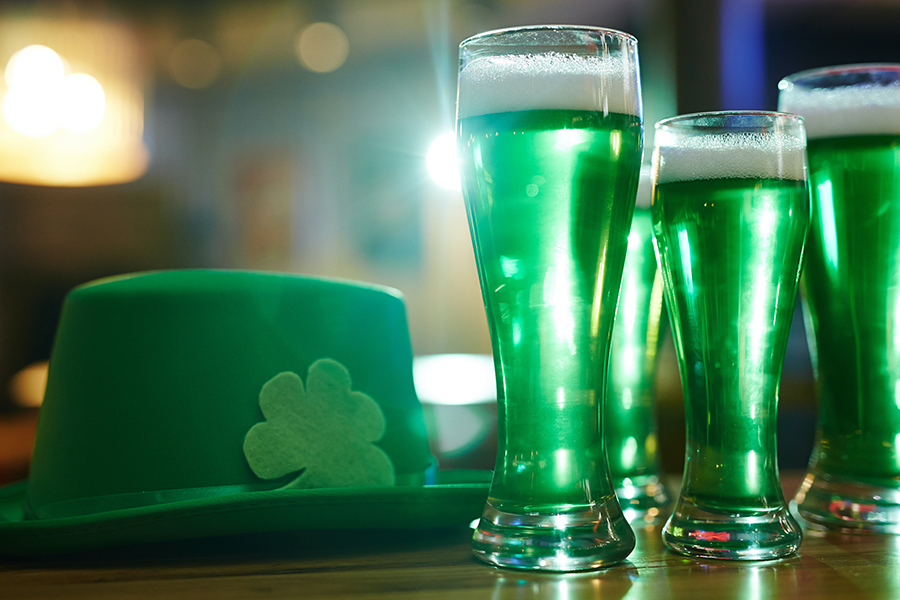 It's almost time to get your green on and celebrate St. Patrick's Day in a proper way. Everyone is a little bit Irish on March 17th, so why not mix and match a few of our favorite Irish recipes and raise your glass to all things green.
Bell Pepper Shamrock Frittata: This delicious dish is made with Yukon Gold potatoes and sliced bell peppers to cleverly create shamrocks! Create your own variation by adding more veggies for a vegetarian option or adding any breakfast meats you choose.
Bangers and Colcannon with Guinness Onion Gravy: This dish consists of pork sausages that are served on colcannon, an Irish form of mashed potatoes with bacon and sautéed cabbage mixed in, and topped with a Guinness gravy.
Corned Beef, Cabbage, Carrots, and New Potatoes: Here's a simple supper for the meat-and-potato lovers in your family. A spicy-sweet honey and brown mustard dressing adds a tangy twist.
Irish Soda Bread: Soda bread with a twist. Yogurt has been used in place of the buttermilk and rolled oats have been added for texture. Cut into slices and serve with a flavored butter, jam or marmalade.
Irish Boxty Potatoes: Traditional Irish potato pancakes, also known as boxty, are made with a mixture of mashed and grated potatoes for a texture that's part pancake, part hash brown.
And don't forget your Adult Irish beverage:
Lucky Charms Milkshakes with Marshmallow Frosting: A childhood favorite introduced to adulthood by blending it up, adding milk, vanilla ice cream and marshmallow vodka.
Guinness Ice Cream Floats: A scoop of coffee ice cream and a drizzle of chocolate turn rich, dark Irish stout beer into a celebratory dessert drink for adults.
Dublin Eggnog: This drink brings together two favorite flavors–Irish coffee and eggnog. Adding Irish whiskey, nutmeg, sugar and whipped cream – this is a perfect cool weather sip.
And, of course, if you'd prefer to have others prepare your St. Patrick's Day experience, look no further than nearby Sláinte.Pub & Grub, for a perfect St. Patrick's Day experience.
Whether you choose to feast on traditional Irish favorites like corned beef and cabbage, coffee, soda bread, potatoes, and shepherd's pie or try some a new spin on an all-time classic, enjoy your day!
Photo by Pressmaster from Pexels
Experience life along the Oakland Waterfront! Introducing Orion, luxury apartments in Oakland CA. We offer the best amenities and a variety of floor plans designed to fit you. Visit our amazing homes today. Life on the water here comes in dozens of unique sizes and looks. Orion offers a generous variety of studios, one-, two- and three-bedrooms and townhome-style floor plans to choose from, each complete with premium finishes including polished quartz countertops, stainless steel appliances, and an in-unit washer/dryer. Be among the first to tour this exciting new apartment community in Oakland's newest neighborhood at Brooklyn Basin!