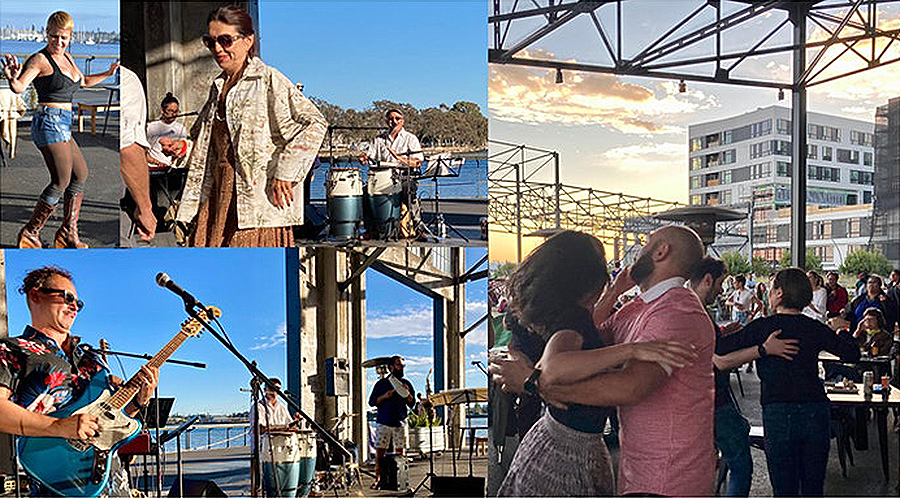 Orion is perfectly located to enjoy all of the East Bay fun. We've rounded up some few local activities that we're looking forward to this month. Explore the list and map out your month:
April 1, Balkan Dance Party. Rocky's Market Brooklyn Basin kicks off its spring season with the beloved Bay Area Balkan music party, Kafana Balkan, featuring a raucous performance by LA based Axon Orkestra.
April 1, Oakland First Fridays. April's theme is Green Oakland. Entering the next decade, we must be aware of our relationship with the planet. This month of April, we come together to understand how we can make decisions that are in line with our environment and our lifestyle choices.
April 2, 9, 16, The Comedy Edge: Stand-Up on the Waterfront. Every Saturday through October, the Comedy Edge brings you a new diverse lineup of some of the brightest and boldest voices in comedy at Rocky's.
April 8, Lars and In Charge: High-Energy Fiddle Tunes of Turkey. Lars and In Charge plays high-energy fiddle tunes of Turkey and beyond. Featuring dance performances by Melissa Cruz at Rocky's Market.
April 9, Easter Celebration. Head to JLS for a free Easter Celebration located in the plaza near Plank. During this fun-filled event, families are invited to take selfies with the Easter Bunny (bring your own camera). There will also be a Storytime with Mother Goose, contests, and a kid's craft.
April 10, 17, 24, Sunset Sundays. Enjoy the Bay Area's best bands and musicians in this open air covered patio set on the majestic Oakland waterfront at Rocky's Market Brooklyn Basin.
April 15, Mbira dzaSoko: Salani & Friends. Celebrate mbira music with Mbira dzaSoko-led by Zimbabwean mbira player, Salani Wamkanganise and friends at Rocky's Market Brooklyn Basin.
April 18, Oakland Athletics Opening Game. Cheer on the A's on Jackie Robinson Day and get your free Rally Towel for all early arriving fans.
Thru April 22, 2022 Design Challenge. "What about Oakland inspires you?" Create an original "Inspire Oakland" design that inspires you using your unique creativity, vision of diversity, and spirit of innovation.
April 23, Earth Day – A Grand-Garbage-Go-Getting-Adventure. Join Earth Day – I Heart ♥️ Oakland Alameda Estuary for a public water and shore cleanup.
April 29, Flamenco Fridays Live at The Basin. Local Flamenco artist Melissa Cruz presents a rotating cast of the Bay Area's best flamenco dancers and musicians each month.
April Sundays, Live Jazz + Wine Tasting Sundays at Rocky's 12-2pm. Live jazz and wine tasting along the Oakland waterfront.
April Weekends, Outdoor Vinyasa at Brooklyn Basin. Join the fun of an Outdoor Class at Brooklyn Basin in Oakland. Flow next to the Bay with the sea breeze in your hair and the sunshine on your skin.
Experience life along the Oakland Waterfront! Introducing Orion, luxury apartments in Oakland CA. We offer the best amenities and a variety of floor plans designed to fit you. Visit our amazing homes today. Life on the water here comes in dozens of unique sizes and looks. Orion offers a generous variety of studios, one-, two- and three-bedrooms and townhome-style floor plans to choose from, each complete with premium finishes including polished quartz countertops, stainless steel appliances, and an in-unit washer/dryer. Start exploring plans and amenities at this exciting new apartment community in Oakland's newest neighborhood at Brooklyn Basin!