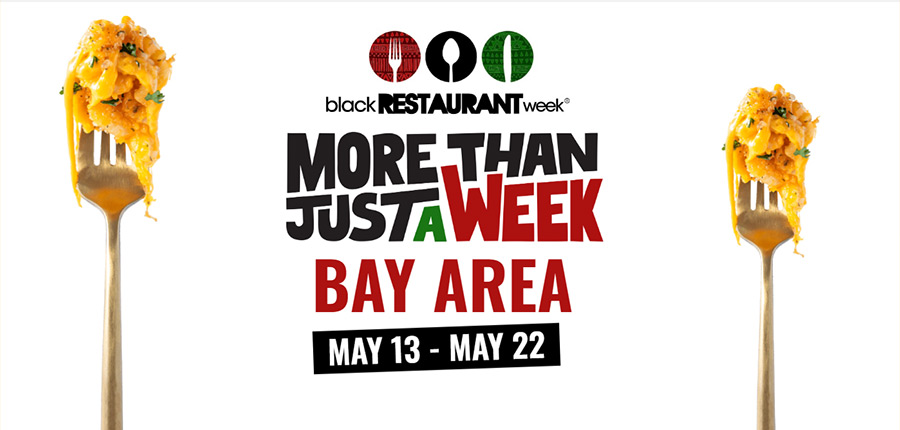 We all know how amazing our local food scene is and love it when the dedication and effort of those restaurants is showcased. Join the fun and celebrate Black Restaurant Week, which runs May 13th – 22nd (yes it's over a week but the deliciousness couldn't be represented in only 7 days).
Black Restaurant Week is presenting its 3rd annual campaign in the Bay Area, with a culinary series that celebrates the flavors of African-American, African, and Caribbean cuisines. This year, the organizers are more passionate than ever to serve the culinary industry and have expanded participation from restaurants to food trucks, sweets, and more. Join in and support local black restaurants in Oakland.
VisitOakland.com has a wonderful summary highlighting Black-owned restaurants in Oakland.
Oakland has a proud and resilient Black history/community that celebrates the influence on cultures past, present and future. This is certainly reflected and embraced in its food. With everything from Caribbean jerk chicken and plantains to Ethiopian injera with wat and comforting Southern fried chicken, Oakland's culinary scene is inherently vibrant, flavorful and Afrocentric. Next time you're in The Town, be sure to stop by and support a few of these delicious restaurants by Black chefs and entrepreneurs.
About Black Restaurant Week
Founded in 2016 by Warren Luckett, Falayn Ferrell, and Derek Robinson, Black Restaurant Week® is dedicated to celebrating the flavors of African-American, African, and Caribbean cuisine nationwide. Through a series of events and promotional campaigns, Black Restaurant Week's culinary initiatives help introduce culinary businesses and culinary professionals to the community.
So where to begin? Visit the official website and follow this link to Black-owned Restaurants in Oakland.
Happy dining,
Experience life along the Oakland Waterfront! Introducing Orion, luxury apartments in Oakland CA. We offer the best amenities and a variety of floor plans designed to fit you. Visit our amazing homes today. Life on the water here comes in dozens of unique sizes and looks. Orion offers a generous variety of studios, one-, two- and three-bedrooms and townhome-style floor plans to choose from, each complete with premium finishes including polished quartz countertops, stainless steel appliances, and an in-unit washer/dryer. Start exploring plans and amenities at this exciting new apartment community in Oakland's newest neighborhood at Brooklyn Basin!