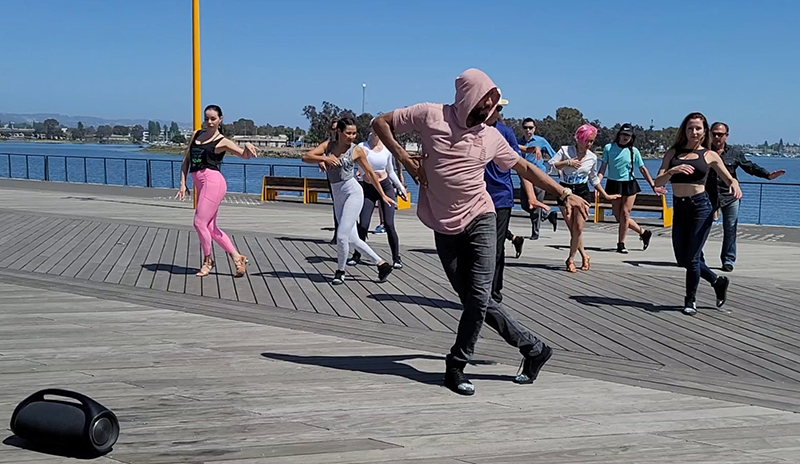 The event scene is heating up with summertime fun and Orion is perfectly located to enjoy it all. We've rounded up some nearby activities that we're looking forward to in July. Explore the list and map out your month:
July 1 – Oakland First Fridays – All Things INDIE
Oakland is the city of entrepreneurs, creative artists, and talented chefs, and more. Oakland First Fridays prides itself in being an incubator for small businesses for talented locals of all trades.
July 1 – The Grease Traps with Andre Cruz & Chris Lujan
Oakland's own 8-piece funk and soul unit, The Grease Traps, present a live music performance outside of Rocky's Market Brooklyn Basin.
July 1 – Chante Moore at Yoshi's
The award-winning singer, songwriter, and producer who served up countless hits to fans throughout the years has a whole new outlook on life; and she is ready to share her inspiring story with the world through new music and live stage performances.
July 1, 8, 15, 22, 29 – Summer Music Series at Jack London Square
FREE Summer Music Series each Friday starting on June 3 – August 19, from 7pm to 9pm located on Restaurant Row near Farmhouse Kitchen Thai Cuisine.
July 2, 9, 16, 23 – The Comedy Edge: Stand-Up On The Waterfront
Enjoy some of the Bay Area's top comedians in this open air covered patio set on the majestic Oakland waterfront.
July 3, 10, 17, 24, 31 – JLS Farmers' Market
The Jack London Square Farmers' Market has deep roots in Oakland, offering local produce and food craft products. The Market provides a weekly opportunity for the community to enjoy a variety of vendors along the beautiful waterfront property. Market hours are 9 a.m. to 2 p.m. every Sunday.
July 3, 10, 17, 24, 31 – Water St. Makers
True to its roots and origin, open-air markets are designed to support new and existing businesses through experience and exposure. First time entrepreneurs have raved about how simple it was to test the waters and create awareness with minimal risk. Water St. Makers takes place every Sunday from 11:00am – 4:00pm and is showcased alongside Jack London Square's acclaimed Farmer's Market.
July 3 – BUT-TAH's's Jook Joint at Yoshi's
"Interactive Dinner Show" featuring the vivacious sounds of Ms. BUT-TAH, The Buttaluv Band & her soulful cast of All-Star Performers are ready to take you on a musical journey back in time when Rhythm & Blues was first born, right out of the Swing Era to the Funk Soulful Sounds of the 70's.
July 3 – Salsa and Bachata Class and Party By the Water
Sundays Club Latin Training – Salsa Class 3-4pm – Bachata Class 4-5pm – Practice Party 5 -8 pm
July 4 – July 4th Celebration on the USS Potomac
Experience the excitement of living history and fireworks over the SF Bay on this beautifully restored ship. This is a one-of-a-kind memorial and a floating National Historic site.
July 4 – A's vs. Blue Jays & July 4th Fireworks
Sit in awe on the field as you watch Oakland A's fireworks and drone shows after these games in 2022.
July 6 – Blood Drive
Jack London Square has partnered up with Vitalant to host a Blood Drive on Wednesday, July 6, from 11:30AM to 4:30PM located in space 255 2nd St., adjacent to the Amtrak station.
July 7, 14, 21, 28 – Waterfront Flicks at JLS
Outdoor movie fun! Bring a blanket, lawn chair and some take out from any of your favorite Jack London Square restaurants!
July 8 – LoCURA Live at Rocky's Brooklyn Basin
LoCURA live at Rocky's Brooklyn Basin on the Oakland Waterfront!
July 21 & 22 – Tash Sultana at Fox Theater – Two Nights!
Tash Sultana is bringing the Terra Firma 2022 Tour to the historic Fox Theater in Oakland for TWO NIGHTS on July 21st & July 22nd! Josh Cashman will open the show.
July 24 – Purity Ring at Fox Theater
On the heels of their highly-anticipated album WOMB (Out April 3rd), Purity Ring return with their first headline tour in over 3 years.
July 29 – Flamenco with Melissa Cruz at Rocky's Brooklyn Basin
Come witness the Bay Area's best professional flamenco artists summon the spirit of flamenco on Oakland Waterfront.
July 29 – Oaklandish presents: Fairyland for Grownups
During the day, adults who want to go to Children's Fairyland must bring a child (and vice versa). But from 7 to 10 p.m. on Friday, July 29, that rule doesn't apply. On that night, Oaklandish and Fairyland are hosting a night of pure imagination — for grownups only!
Image credit: https://www.facebook.com/lorans.latinacademy
Experience life along the Oakland Waterfront! Introducing Orion, luxury apartments in Oakland CA. We offer the best amenities and a variety of floor plans designed to fit you. Visit our amazing homes today. Life on the water here comes in dozens of unique sizes and looks. Orion offers a generous variety of studios, one-, two- and three-bedrooms and townhome-style floor plans to choose from, each complete with premium finishes including polished quartz countertops, stainless steel appliances, and an in-unit washer/dryer. Start exploring plans and amenities at this exciting new apartment community in Oakland's newest neighborhood at Brooklyn Basin!