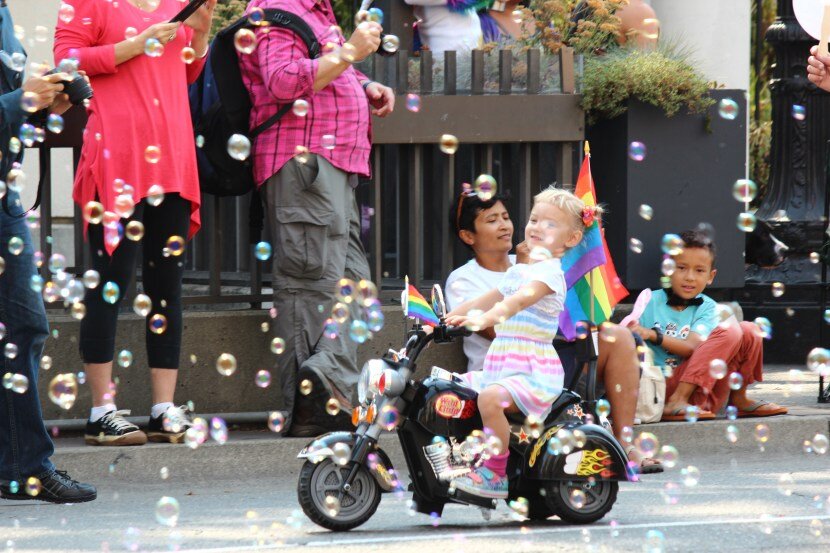 Mark your calendars for September 4 as Oakland Pride returns to the East Bay. Oakland Pride is one of the most diverse Lesbian, Gay, Bisexual, Transgender, and Queer (LGBTQ) celebrations in the country and the largest Pride event in the East Bay!
Celebrating and highlighting the wide range of our communities in a weekend full of fun, resources, entertainment, activism and engagement, Oakland Pride strives to create an environment where everyone can enjoy what makes us unique and what brings us together.
Oakland Pride is about Oakland, working on the great aspects of our City while giving a platform to get engaged and involved in our communities. It's also about family, providing a safe and fun environment for families from all spectrums.
For those looking for more information, we have repurposed a few FAQs taking from the official site:
When is Oakland Pride?
A: The 2022 event, which will be the 12th anniversary of Oakland Pride, is set to take place on Sunday, September 4th, 2022. Oakland Pride PARADE kicks off 10:30am at Broadway & 14th Street. Oakland Pride FESTIVAL kicks off at 10:30am and ends at 7:00pm.
Where is Oakland Pride?
A: Oakland Pride PARADE starts at Broadway & 14th Street (Oakland City Hall) and ends at Broadway & 20th Street (Oakland Pride Festival Main Entrance). The Oakland Pride FESTIVAL main entrance is located at Broadway & 20th Street. Secondary entrance located at Webster and 21st Street.
Do I need a ticket to get into Oakland Pride?
A: General admission to the Oakland Pride FESTIVAL is $10, children under 12 is $5. NO FEE to watch Oakland Pride PARADE (except in VIP/Grandstand* seating along the Parade route).
*VIP/Grandstand for Oakland Pride PARADE at Latham Square (Broadway & Telegraph) is available as part of our VIP Pride Pass program, or on a first-come, first-served basis for a fee ($5.00 in advance, $10.00 at gate, free ADA access). For more information about VIP Pride Pass or Grandstand Tickets, please e-mail [email protected]
Image credit: Oakland Pride on Facebook
Experience life along the Oakland Waterfront! Introducing Orion, luxury apartments in Oakland CA. We offer the best amenities and a variety of floor plans designed to fit you. Visit our amazing homes today. Life on the water here comes in dozens of unique sizes and looks. Orion offers a generous variety of studios, one-, two- and three-bedrooms and townhome-style floor plans to choose from, each complete with premium finishes including polished quartz countertops, stainless steel appliances, and an in-unit washer/dryer. Start exploring plans and amenities at this exciting new apartment community in Oakland's newest neighborhood at Brooklyn Basin!