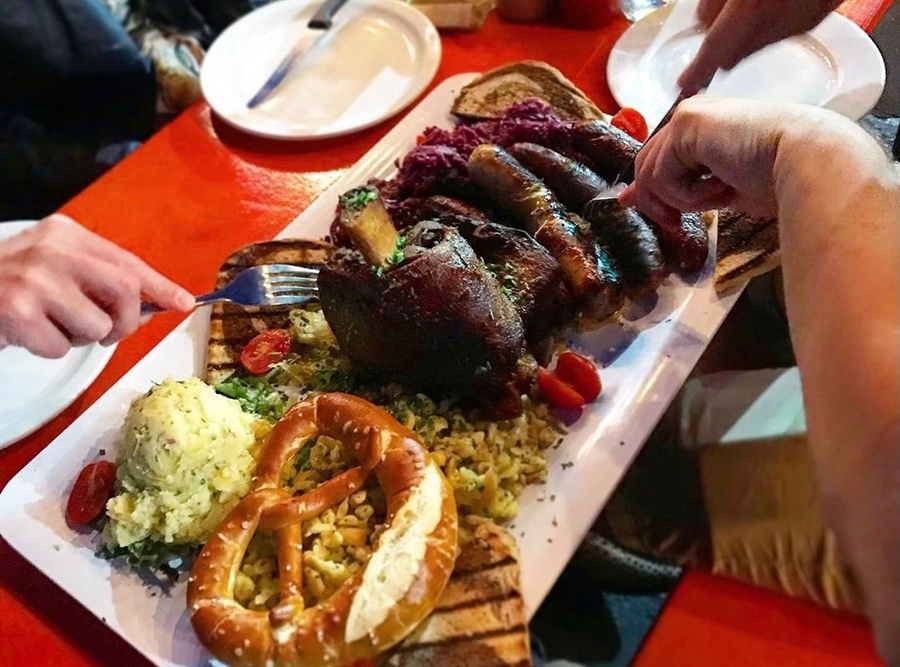 September 17th kicks off Oktoberfest running through October and our neighbor, Brotzeit Lokal, is the best place for house-made sausage, German beer + celebrations, brunch on the weekends and waterfront views.

Brotzeit Lokal is a Bavarian-inspired restaurant and biergarten with a distinctively Oakland flare, featuring locally-sourced, house-made menu items alongside a unique German craft beer selection and craft cocktails. The food is based on traditional Bavarian fare, taking advantage of the Bay Area's immense culinary bounty and unique farm-to-table aesthetic, offering a variety of house-made sausages and condiments, including sauerkraut, mustards and seasonal pickles. They also offer a variety of other sandwiches, platters and snacks.
The popular waterfront spot was the subject of a recent SF Gate article showcasing the food, drinks and atmosphere.
On warm summer days, locals gather at red picnic tables on the patio to wash down sausages and freshly baked pretzels with pilsners, all the while drinking in the view of boats bobbing languidly by the dock. Some even pull up to the restaurant's guest dock in their boats or kayaks for a beer-fueled pit stop on the water.
Brozeit Lokal has a universal appeal as the article showcases:
"Our demographic is all over the place," Bailey said. "I mean, it really blows my mind. Sometimes we have 25-year-olds, you know, in sparkles and glitter and rainbows, and then we've got 80-year-olds having their birthday party. It's pretty amazing to me. I love it."
Be sure to read the entire SF Gate article here.
It's a wonderful venue to usher in the Fall season. Prost!
Image credit: Brozeit Lokal on Instagram
Experience life along the Oakland Waterfront! Introducing Orion, luxury apartments in Oakland, CA. We offer the best amenities and a variety of floor plans designed to fit you. Visit our amazing homes today. Life on the water here comes in dozens of unique sizes and looks. Orion offers a generous variety of studios, one-, two- and three-bedrooms and townhome-style floor plans to choose from, each complete with premium finishes including polished quartz countertops, stainless steel appliances, and an in-unit washer/dryer. Start exploring plans and amenities at this exciting new apartment community in Oakland's newest neighborhood at Brooklyn Basin!