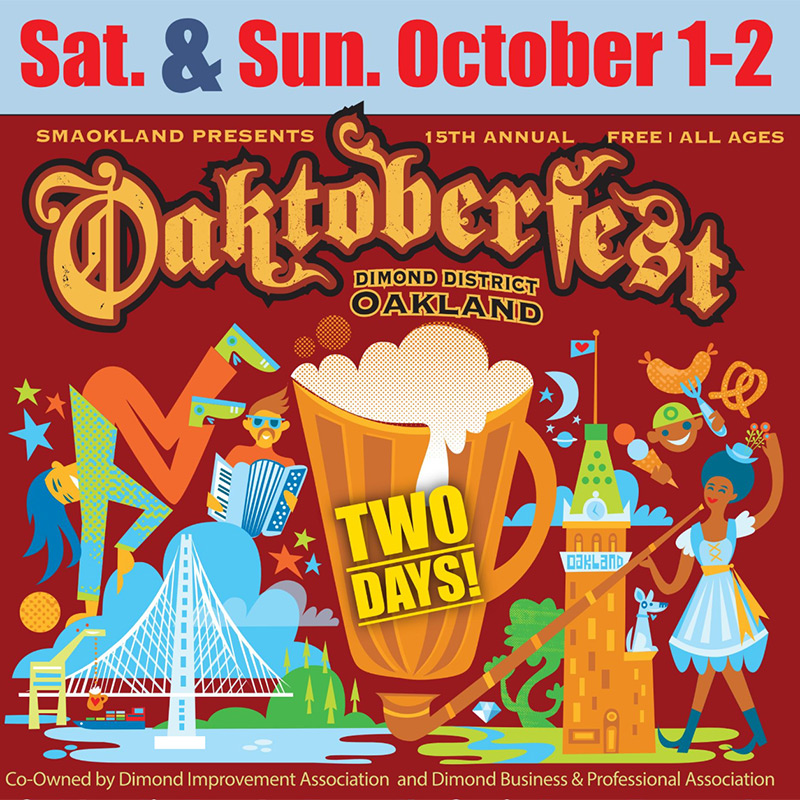 Fall is in the air and nothing starts off the autumn season like Oktoberfest. True to our city's culture, creativity and diversity, Oakland has its own version of the popular celebration.
Embrace your inner Bavarian as Oaktoberfest returns with outdoor dining, drinking, and entertainment with free entry for the whole family. Don't miss the live German music, traditional German food options, hundreds of vendors, live music, and the Bay Area's best craft beers. Come and celebrate in Oakland's historic Dimond District!
The Details:
Dates and times: Saturday, October 1 (11am-7pm) and Sunday, October 2 (10am-5pm).
Location: Oakland's Dimond District at the intersection of Fruitvale Avenue and MacArthur Boulevard.
Pricing: Admission is FREE. Beers are $6 or you can go for one of our drink package options ($25 for a commemorative stein and 4 full pours; $60 for unlimited 6oz tasting and lots more). Buy a drink package in advance of the Festival to be guaranteed a stein!
Never attended Oaktoberfest? Here is what you can expect this weekend, taken from their official website:
Oaktoberfest is one of the Bay Area's premiere craft-beer festivals boasting over 200 craft beers to choose from, but it's not only about the brews. We have four stages jam packed with amazing artists like Andre Thiery, Midtown Social, and Bayonics and Soji and the AfroBeat Band to name a few. There is an entire street dedicated to kids and family attractions with a root beer garden where root beer floats abound. There will also be hundreds of vendors with clothes, crafts and of course plenty of great food options.
THE FOOD: 20+ food vendors, including Oakland and Bay Area prominent chefs, showcase traditional German-style menus, including Evergood Sausages, locals Grand Lake
Kitchen cooking up pork schnitzel, bratwurst, bread dumplings, braised red cabbage, and of course, and fresh baked strudel.
THE BEERS: 40+ breweries—local and regional, including Henhouse, Dekko, Altamont, Anchor, and Drake's—will pour 200+ varieties of beer. Breweries from Santa Cruz to Sonoma and San Francisco to Oregon will represent their beers at Oaktoberfest. Great local wines and distilled spirits (at the Tequilla Trece Blanco Bars) will also be available! Beer Packages and Unlimited Tastings Passes are on sale now. BUY DRINK PACKAGES
There is even a digital festival guide. Our neighbor, Brozeit Lokal, is a sponsor of this year's event.
What a great way to usher in the fall season on the sunny side of the Bay. Prost!
Image Credit: https://www.oaktoberfest.org/
Experience life along the Oakland Waterfront! Introducing Orion, luxury apartments in Oakland CA. We offer the best amenities and a variety of floor plans designed to fit you. Visit our amazing homes today. Life on the water here comes in dozens of unique sizes and looks. Orion offers a generous variety of studios, one-, two- and three-bedrooms and townhome-style floor plans to choose from, each complete with premium finishes including polished quartz countertops, stainless steel appliances, and an in-unit washer/dryer. Start exploring plans and amenities at this exciting new apartment community in Oakland's newest neighborhood at Brooklyn Basin!