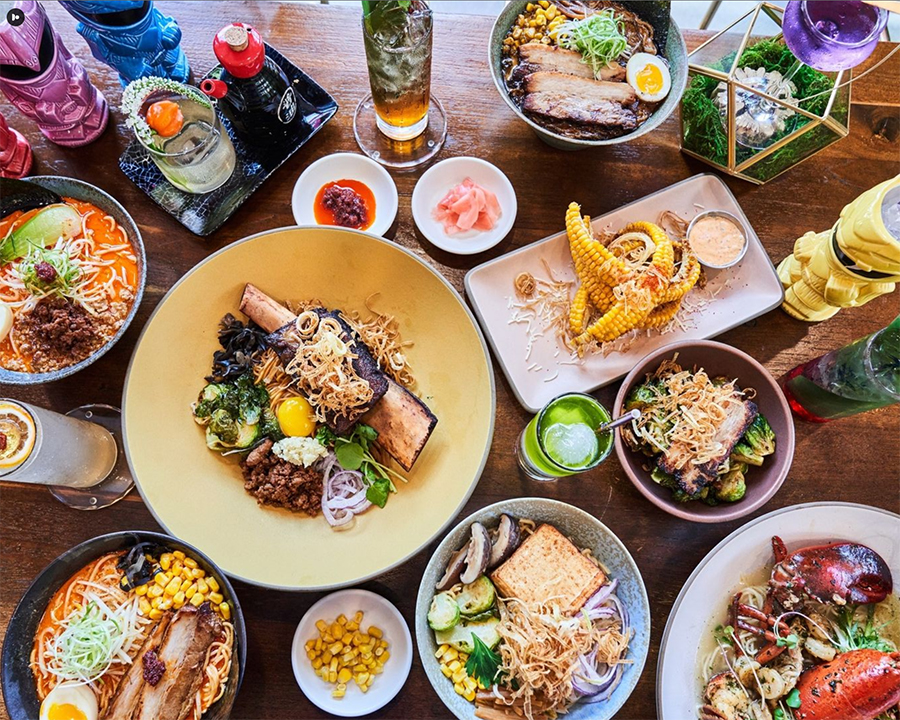 We love the dynamic and diverse dining and drinking options within easy reach of Orion. It seems as if there are new venues popping up all the time. That's why we are very excited that Noka Ramen has come to nearby Jack London Square.
The exciting news even caught the attention of Eater SF's recent Hottest New Restaurant in The East Bay. Below is a wonderful description of Jack London Square's newest restaurant venue:
Noka Ramen's photo-worthy Oakland space will get plenty of acclaim from those who enjoyed the similar aesthetics at chef-owner Kasem Saengsawang's other restaurants, Son & Garden and Farmhouse Kitchen Thai. But there's also a serious (and fun) food element going for the restaurant. Luxuriate in the rich tonkotsu broth of the ramen, including a classic ramen, a spicy miso version, or a black garlic option — all loaded with soft-boiled eggs, bamboo shoots, beansprouts, and more. There's a veggie-based broth for those who prefer it, as well as more audacious styles incorporating lobster or short ribs with dry-style Japanese noodles. And if you partake, don't miss the colorful and playful drink menu while you're at it.
The Yelpers and foodies are loving what Noka Ramen is serving up:
Very cute restaurant in the Jack London area. Decorated beautifully with jungle/nature themed walls and even have some cute cups for their beverages!
We went for lunch on a Sunday, and there was no wait since we sat at the bar. There seems to be ample outdoor seating as well, and decent sized tables for a large group indoors.
We ordered the Lobster Shio Ramen ($56) and the Black Garlic Tonkatsu ($19), as well as a pair of "Noka Ranger" drinks. Everything tasted great, and we left full.
The lobster ramen was a bit difficult to eat because you have to crack the lobster and everything, but they provide crackers and gloves. Pro tip: it's probably best to eat as you go, because by the time I was done cracking and peeling my lobster, my ramen/soup wasn't as warm anymore. – Arisa G.
Awesome ramen place. Food, ambiance, and service all 5-stars. The ramen broth was rich, had depth, perfectly proportioned saltiness to umami to spiciness, toppings were all thoughtfully flavored and high quality (try the marinated tofu). Thin noodles but still had the right amount of chewiness. The spicy miso ramen reminded me of tan tan ramen. Perfect date spot or 'chill dinner with a few girlfriends' kind of vibe… – Tj W.
Good food, very cute decor and drinks/cups. Would definitely come back. Truffle fries were tasty, drinks good but light. Love the adorable variety of cocktails offered and the presentation. I had the black garlic ramen which was really flavorful and filling. – Linda P.
Noka Ramen
90 Franklin St, Oakland, CA
Sounds amazing. Head on over to Jack London Square and partake in some ramen deliciousness.
Image Credit: Noka Ramen on Instagram
Experience life along the Oakland Waterfront! Introducing Orion, luxury apartments in Oakland CA. We offer the best amenities and a variety of floor plans designed to fit you. Visit our amazing homes today. Life on the water here comes in dozens of unique sizes and looks. Orion offers a generous variety of studios, one-, two- and three-bedrooms and townhome-style floor plans to choose from, each complete with premium finishes including polished quartz countertops, stainless steel appliances, and an in-unit washer/dryer. Start exploring plans and amenities at this exciting new apartment community in Oakland's newest neighborhood at Brooklyn Basin!