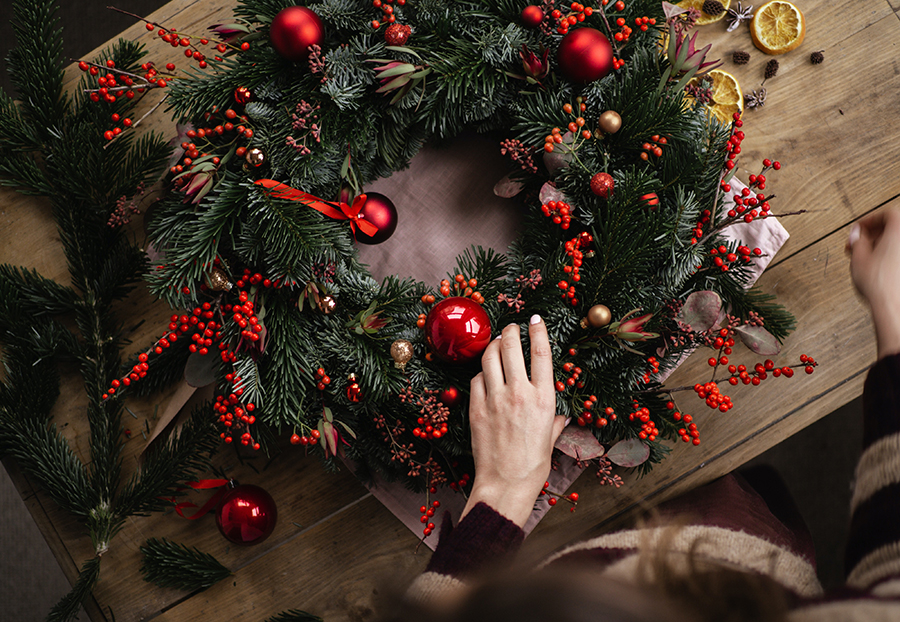 Greet your guests and family with a little creative holiday cheer with a DIY wreath. A Do-It-Yourself holiday wreath is a wonderful way to express yourself as well as usher in the season, while getting your home at Orion into the holiday spirit.
Here are a few of our favorite DIY holiday wreaths that will welcome your guests in style.
Paper Village Wreath
Your guests and neighbors will be in awe of this gorgeous wreath. The best part is that it's not that difficult to make, but you'll definitely want to set out time for folding the paper houses.
Gingerbread Cookie Christmas Wreath
Gingerbread and wreaths are a perfect pairing. Turn your favorite Christmas treat into a beautiful decoration! Bakers will love the personal touch it adds to their homes.
Felt Poinsettia Christmas Wreath
Poinsettias are the unofficial houseplant of Christmas, so why not give a nod to those brilliant red flowers with this DIY felt wreath? Top it off with an over-sized red satin bow for added pizazz.
Frosted Winter Wreath
Express your love for the outdoors with this wonderful wreath design. Frosted pine cones and berries create a snowy wonderland right on your front door.
Vintage Ornament Wreath
Old School along the Oakland waterfront. Vintage ornaments are simply gorgeous on a tree, but have you thought about bringing that old-school charm to a Christmas wreath? This tutorial will show you how.
Be sure to check out or decorating your Orion home for the holidays post as well.
Happy Holidays to All!
Experience life along the Oakland Waterfront! Introducing Orion, luxury apartments in Oakland CA. We offer the best amenities and a variety of floor plans designed to fit you. Visit our amazing homes today. Life on the water here comes in dozens of unique sizes and looks. Orion offers a generous variety of studios, one-, two- and three-bedrooms and townhome-style floor plans to choose from, each complete with premium finishes including polished quartz countertops, stainless steel appliances, and an in-unit washer/dryer. Start exploring plans and amenities at this exciting new apartment community in Oakland's newest neighborhood at Brooklyn Basin!